TESTIMONIALS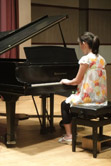 When I started with Roy Music, I knew next to nothing about piano.Now, 3 years later, I am able to play songs I never would have dreamed of doing. Thank you Polina. Your thoughtful teaching has kept me playing all these years.
Katherine G.
As parents with no music background, we are astonished by our kids achievements in piano! Your school provided a first class learning experience to our kids,through amazing patience,positive attitude and continuous encouragement. We always are happy to recommend your school to all our friends!
Amanda and Jack F., Toronto
Dear Polina! I remember when I first came to your school at age of 5, to start taking piano lessons. Now,many years later, my family and I would like to thank you and your wonderful teachers for the many valuable skills you have taught me.

I appreciate the opportunity to apply all this knowledge and teach in your school,after completing my studies. Thanks to this experience I have learned so much about myself; it helped me to develop my personality and become a more mature and confident individual. My love for music and children is the greatest gift I have received in my life.
Brenda C., Thornhill
Dear Polina ! Thank you for being such a great teacher to Kevin in every way. Your dedication and professionalism are always admired by all our family and we feel especially grateful for making music studies as fascinating for Kevin as we only could hope!
Chiu family, North York
…We consider ourselves very fortunate to be able to take music lessons at Roy Music…Our three kids love music, thanks to unique qualities of the teaching staff. After some bad experience we had in the past in other schools, we are finally feeling that this is the right place to be!
Tony and Sabrina P., Woodbridge
Dear Polina! The Spring Recital was a huge success again…thanks to you! You are a very special person and a gifted teacher. Your kindness and warmth is what keeps your school at such high standard and puts it in a league of it's own!!
Patel family, Concord
…. you are a wonderful teacher. I have learned so much from you. I hope you continue to pass on valuable knowledge and experience to students like me, for many years to come! Thank you!
Janet Vassilieva, Thornhill Woods
… I truly appreciate everything you have done for me. Your abundant knowledge and wisdom have been an excellent guidance for me. I will remember everything you have taught me and will apply it to my life! Thank you !
M. Lee, Markham